Dan Nelson, P.L.S.
Principal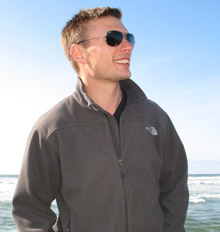 Mr. Nelson has performed surveys in almost every corner of the state for a wide variety of clients. As Survey Manager, he oversees all aspects of surveying services performed by Branch Engineering. His specialties include Topographic Surveys, ALTA/NSPS Land Title Surveys, Land Divisions, Property Line Adjustments, and Elevation Certificates. Whether working with the home owner, land developer, or architect, Mr. Nelson has the expertise necessary to accomplish the task at hand.
Over the last 16 years, Dan has held nearly every position in the surveying profession. Dan prides himself in understanding the challenges associated with every aspect of the job. Dan was recently a Board Member for the Professional Land Surveyors of Oregon, and honored as their Associate Member of the Year in 2009.
Dan grew up in the Columbia Gorge and moved to the Willamette Valley after graduation. He lives in Eugene with his wife, Amy, where they enjoy spending time outdoors or traveling somewhere new.
Professional Registration
Professional Land Surveyor: Oregon #84832PLS
Education Memberships
Oregon Institute of Technology: BS - Geomatics
Professional Land Surveyors of Oregon
National Society of Professional Surveyors